Pantry Essentials
Over the years I have amassed quite a few seasonings. I love traveling to different countries (or my local grocery store) and picking up spices I've never seen before or have at home but want more of. Over time, I've found that there are a few pantry staples that every cook should have in their cabinet. Everything I'm going to list can be found pretty easily and for a relatively low price.
I love to go bargain shopping for my seasonings and I have scored some amazing stuff at TJ Maxx, Marshalls, Home Goods, Costco and local farmers markets. Trader Joe's also stays coming through in a clutch so don't be afraid to travel a bit for the right stuff at the right price for you. If you feel like I've left anything off or if you happen to have the hook up for truffle salt (bougie ass guilty pleasure) let a sista know.
It should go without saying but salt is such a simple but important addition to your dishes. There are so many different varieties: pink Himalayan, coarse, Kosher, black salt, smoked salt etc., They all add a different dimension to your meal and I won't talk you out of purchasing every variety you want. However, I'd advise you to start with some good old Kosher salt and then as you get comfortable with flavor add on from there.
This one is a biggie. Lawry's seasoning salt has been a staple in black family homes since the day after the ascension of Christ. Next to portraits of Jesus, MLK, and President Obama is a tribute to Lawry's. It's sacred. I'm serious! You don't have to limit yourself to one kind of seasoning salt. There are a lot of brands out there. Even my absolutely favorite Trader Joe's has their own brand! Join the club, your taste buds will thank you.
Like salt, pepper is a necessity and also comes in a lot of varieties. I love to use fresh cracked pepper but honestly any kind will do. You can have it fine or coarse or whatever excites you. Just buy it and use it!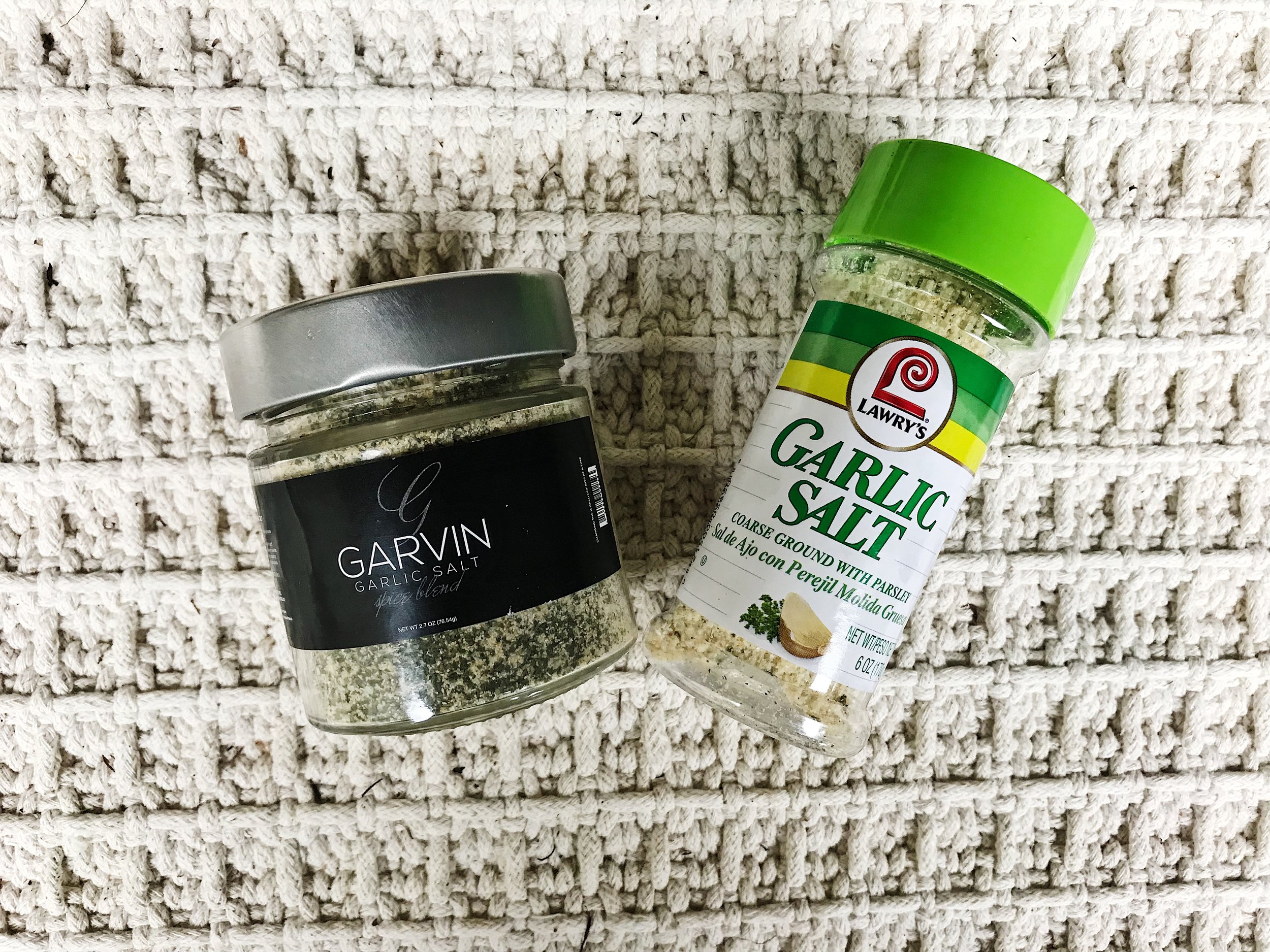 I am a garlic fiend. Pretty much everything I make has garlic in it because it's one of God's gifts to our taste buds. I like to have both garlic salt and garlic powder in my pantry. You can of course buy one or the other, but buy both because you'll use both…trust me.
See above garlic description and substitute onion wherever you see the word garlic.
6. All Purpose/No-Salt Seasoning
Costco sells an amazing version of this and they call it "Organic Non-Salt Seasoning," Trader Joe's calls it the "21 Seasoning Salute" and Mrs. Dash calls it the "Original Seasoning Blend."
It's basically a blend of a bunch of different spices without salt. It is so useful and adds so much flavor to your dishes without the sodium. You can find this type of seasoning anywhere! It doesn't have to be any of the brands I've listed but it should contain NO SALT.
I'll show you how to make stock a little later (and explain the difference between stock and broth) but for now just go buy some. I'm really in love with Trader Joe's stock selection but you can also purchase whatever is in your local grocery store or go the bouillon route if that's what's easiest for you.
If you choose to go the bouillon route, I have a personal favorite: Knorr's Homestyle Concentrated Stock. I'm single-handedly keeping them in business. I pretty much stroll down the aisle every time I'm in a store and buy every single box they have of this...it's just SO GOOD. Knorr's stock comes in chicken. beef, and vegetable flavors. They even offer low sodium options if you're into that sort of thing. They are bomb.com and make cooking a joy and extra easy because when I use them I don't really need to use any other seasoning. Go forth young grasshoppers and buy some.
This includes cinnamon, nutmeg, vanilla extract, cloves, and allspice if you're feeling fancy (you can save it for later though). I can't bake anything without using these ingredients and they make the house smell like heaven!
Cooking is so much about finding your OWN voice. So even though I've given you what I think is a pretty good starting point, you of course should decide what works for you and stock your pantry accordingly.
Brown Sugar & Bourbon